The Labour Party (LP) has unveil Senator Yusuf Datti Baba-Ahmed as running mate to its presidential candidate, Peter Obi.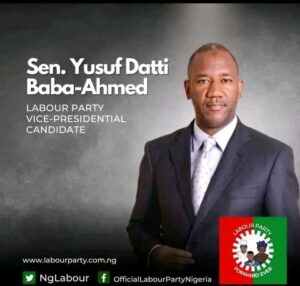 Yusuf Datti-Baba Ahmed is an economist and a Nigerian politician. His anti-corruption activism drew him into politics where he served as a Representative for Zaria Federal Constituency from 2003 to 2007 and Senator for Kaduna North from 2011 to 2012. He was also a PDP presidential aspirant in 2018.
Age 48 years
After his service year at University of Agriculture Abeokuta, Ogun state, he worked as Projects Co-ordinator, Baze Research and Data Services Ltd. and as Officer II in the Nigerian Security Printing and Minting Company, Lagos. He worked as a Banking Officer, First Bank of Nigeria Plc from July 1997 to Dec 1998 and then came back to become the Managing Director of Baze Research and Data Services Ltd in July 1999 – January 2003, before venturing into politics.
Sen. Baba-Ahmed is currently the Pro-Chancellor of Baze University, Managing Director, Baze Research & Data Service Ltd and Chairman, Baze Construction Ltd.
Baba-Ahmed has a BSc and MSc in Economics from the University of Maiduguri in Borno State.
He has an MBA from University of Wales, Cardiff, UK 🇬🇧
In 2006, while a Federal representative, he earned the title of Doctor of Philosophy when he completed his PhD studies at the University of Westminster, UK 🇬🇧
Sen. Datti is a well accomplished philanthropist. Among many of his corporate social responsibility projects; he built and donated two junior secondary schools with a total capacity of 4,000 students. It is worthy of note that the schools have graduated over 6,000 students to date.