The name Afolabi Akindele, CEO of Adamakin Investment, is not new in the news for committing abominable acts like using violence and thuggery to forcefully evict innocent and helpless people from their rightful properties in the city of Lagos and Ogun states. Why he is still walking free and causing more harm is what beats the imagination of law abiding citizens of the states.
In 2021, he and his team of land-grabbing thugs in the company of unidentified mobile policemen stormed Akobi crescent in Surulere with a court judgement that was given in favour of the Iyalode Efunroye Tinubu family for a case they won in legal battle against one Rtd. Col. Oyedele for a different land in Idi-oro, Mushin. Such a criminal move was to deceive the unsuspecting public that he had a court verdict for a different land entirely. He was swift to put possession and eviction notices on over 30 houses in Akobi crescent, claiming to be from the Tinubu family. Landlords of the community reached out to original representatives of the Iyalode Efunroye Tinubu family estate, who confirmed that they neither know Afolabi Akindele nor approved him with their power of attorney, while giving residents their full support that they do not have any interest in their lands as it is illegal to do so, moreover the court judgement was for another property in Mushin, not Surulere.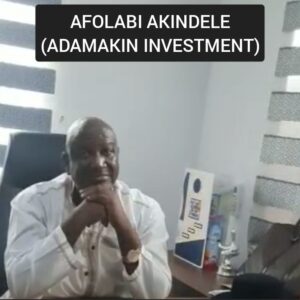 This is how Afolabi Akindele and his gang of criminal elements parade Lagos suburbs claiming people's lands. It is also alleged that he recently sold a land situated at Jibowu, Lagos, belonging to a federal senator, Ganiyu Olarenwaju Solomon (GOS). That is how daring this man is, if he can do that to a sitting senator, what is the hope of the common man?
Most recent in their scheme was when they approached one Pastor Victor Oyezechukwu of Jesus Headstone Ministries in Olaniyi street, Idi-oro, asking him to provide his documents for the land his church occupies. According to the clergyman, he bought the land from the rightful representatives of the Iyalode Efunroye Tinubu family in 2014 after the court judgement mentioned above, as he was privy to the whole land dispute and court proceedings. Initially, Pastor Victor was a tenant on the land who showed interest in purchasing it and when the opportunity arose after a legal battle that the Tinubu family won, he went ahead to make payments and got a Deed of Assignment in the process. The pastor, who is a respected member of the Ologongo CDA in Mushin and has even volunteered a part of his land to be used for Talents and Tech Development in Mushin in order to get the youths off the streets and empower them with skills and opportunities to grow.
The pastor, his family, his church and members have been receiving several threats from Afolabi Akindele and his accomplices, namely Deji Odewale, Rafiu Babarinsa (Rogo), Omocole and Ejo (nicknames). On the 29th of October 2021, one of his notorious thugs – Deji Odewale in the company of several armed touts stormed the pastor's residence to make threats to his life as they pulled down the fence and beat up workers. The matter was reported to Alakara Police Station and the IPO of the case is one Alhaja Busayo. Nothing was done to arrest them and question them for such an unlawful act and they have been walking free ever since. The matter has also been reported to the Police AIG's office on several occasions as far back as 2020 when they threats started and finally in 2022, after the third petition, a team was finally assigned to the case and the band of criminals have never honoured any invitation by the police neither has been been a single arrest.
DEJI ODEWALE
In the wee hours of Friday, the 17th of June 2022, another group of thugs barged into the premises of the church in the company of unidentified and armed mobile policemen who refused to identify which police division they were sent from. One of the thugs identified himself as Ejo and claimed to be from Afolabi Akindele of Adamakin Investment. He warned the pastor to evict the land immediately else they will be back to unleash mayhem, burn the place down and kill him or anyone who tries to stop them.
One would expect that these things should no longer be heard of in a civilized and law driven megacity as Lagos. Tales of land grabbing and unlawful possessions should be things of the past as there are civil processes to resolve land issues. The state has set up a department called Land Grabbers Task Force under the Ministry of Justice and citizens with genuine complaints are advised to utilize their services to seek redress. Land matters should also be addressed by competent courts. One wonders why miscreants like Afolabi Akindele of Adamakin Investments and his band are not making use of the courts to fight for their land, if it truly theirs, but stick to violence instead. The answer is obvious, they are not landowners, they are landgrabbers.
We hereby call on the Lagos State Government, headed by the peace loving governor Babajide Sanwo-Olu, the Nigerian Police, civil society groups and well-meaning Nigerians to come to the rescue of Pastor Victor Oyezechukwu, the landlords and residents of Akobi crescent and other citizens who are been threatened, evicted and even killed by violent land-grabbers disturbing the peaceful city of Lagos.
THE PROPERTY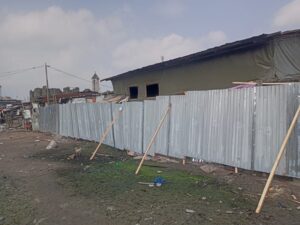 THE ACT VANDALISM BY DEJI ODEWALE AND AFOLABI AKINDELE